When I first got into photography in 2001, all I wanted to do was make my digital photos look like film. Scratch that—I wanted to make my digital photos look "cool." I couldn't knowingly identify film from digital just by looking at an image. Back then I had no idea what other photographers were doing to achieve the look of their work. I had a digital camera and I had Photoshop, and I figured it was just a matter of putting the pieces together.
Over the course of the last decade or so, I've toyed with all sorts of digital processing methods. From black & white to cross-processed to the "Velvia" look; high contrast; color bleach-bypass; the "Anton Corbijn" look; wacky digital collages using clouds from one photo to add drama to another. I have a vague memory of hearing the term "HDR" and giving it a shot, but didn't like the results at all. At some point during all this exploration, I came to the inevitable conclusion that what I was looking for was a way to make my digital images look like they were shot on film. I downloaded various Photoshop actions and deconstructed them to figure out how they worked. Eventually I figured out the core of the various looks I was going for, made some actions of my own, and stopped exploring much in the way of what anyone else was doing.
What am I getting at, you ask? Well, all of this is a roundabout way of saying how impressed I am with what's been going on in the world outside my MacBook Pro over the past few years. That goes even more so for the latest preset package by Rebecca Lily.
Rebecca's Pro Set III Presets for Lightroom builds on her previous collections, offering photographers a way to enhance images straight out of the camera with just a few clicks. She doesn't claim to emulate any particular film emulsion; instead, she has created a variety of options to add—dare I say—a film feel to images, without being tethered to a preconceived idea of what Emulsion X is "supposed" to look like. The resulting collection of presets and tools are a joy to play around with.
Below you'll see some examples, including a few Before-and-After screenshots to give you some idea of the full effect. The majority of these have had no adjustments beyond exposure + white balance + preset, and adjustments outside of that have been minimal (a slight boost to clarity or shadows).
The presets used are indicated in the captions. I, II, & III simply indicate the strength of the effect. To quote Rebecca, each preset includes "a base or milder version, and an additional two versions that progressively strengthen the effect. This gives you the ability to choose the level of the effect for your image. The exceptions to this are the Tones and Kinfolk presets, which simply provide color variations over the three versions."
All images shot with a Fuji X100.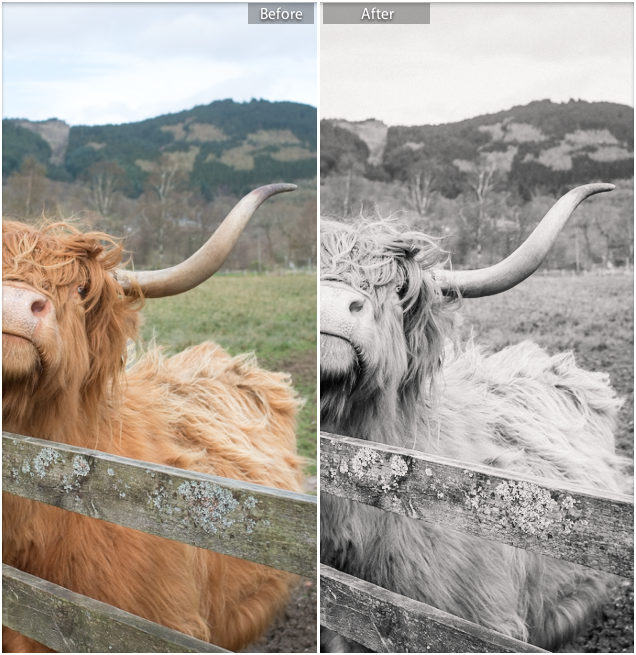 Having spent some time with these presets over the past couple of weeks, I'd have to say my favorites are the black and white presets (all of them), Kinfolk, and Filmic. The above selection of examples is far from complete; in total there are 27 presets (3 versions of each) plus 44 tools.
Oh, and for the film shooters out there who may have been wondering:
So if you're looking for some fun, new ways to spice up your images, I strongly encourage you to check out the presets offered by Rebecca. For more details, including more examples, head on over to Rebecca's product page. If you need some more convincing, check out the beautiful images she has on her website, Poems Without Words.